Services
---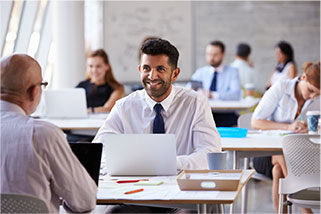 IT Managed Services and Small Business IT Support
FOCUS ON YOUR BUSINESS
Reveille Systems takes a proactive approach to monitoring, maintaining, and managing your information technology environment. This approach is supported by industry leading support tools and trained support staff that enable us to apply the principals of remote management, centralized administration, system automation, and network monitoring. By leveraging these tools and training support staff, we can efficiently and effectively optimize your technology environment and networks producing increased network uptime, increased office productivity, and decreased support costs. Let us worry about your technology environment, and you can focus on business goals.
DEVELOP A PREDICTABLE IT SPEND
Reveille Systems offers scalable flat-fee pricing for Managed IT Services that give you the clarity and consistency for your yearly IT budget. We also serve as a virtual CIO for your business to manage IT investments, perform cost-benefit analysis, and ensure return on investment (ROI) on capital improvements for small business to medium business in Washington DC & Fredericksburg VA areas. With Reveille Systems as your trusted technology partner, you are assured budget forecasting will be predictable and accurate.
REDUCE DOWNTIME AND LOWER COSTS
By outsourcing the management of your company's IT network with Reveille Systems, you'll realize increased productivity resulting from improved uptime on your core business IT systems and applications. We also proactively monitor, patch, upgrade, secure and support your network infrastructure to identify and mitigate IT risks leading to fewer and less severe incidents; ultimately minimizing your costs for unplanned and major service interruptions.
WITH REVEILLE SYSTEMS' PROACTIVE IT MANAGED SERVICES & IT SUPPORT COMPANIES, YOU WILL ENJOY:
Proactive network monitoring, maintenance, and management
Automated monitoring alerts and event notification
Desktop and user support
Help desk and incident tracking
Network security and risk management
Centralized anti-virus, spam, and malware management
Scheduled maintenance and patch management
Data backups for disaster recovery and business continuity
Network performance and bandwidth monitoring
Hardware and software asset inventory and management
Remote and onsite support capabilities
BENEFITS OF MANAGED SERVICES & SMALL BUSINESS IT SUPPORT & CONSULTING:
Allows you to focus on your business goals
Scalable pricing for all service plans
Peace of mind for the business owner
Increased office and user productivity
Decreased costs for managing your IT network
Improved decision making through your virtual CIO
Increased network reliability and system availability
Increased security posture and threat reduction
Accurate IT asset inventory management
VALUE PRICING
Reveille Systems offers customers with scalable pricing options for our IT Managed Services service plans for small business to medium business. Our service plan pricing varies based on the selected service level agreement and size of your business allowing you to choose the right managed service solution for your budget.
LEARN MORE
If you want to know more about Reveille Systems' IT Managed Services & IT Support offerings for small & medium companies or what we can do for your business in Washington DC, Virginia, and Maryland, give us a call at (540) 373-9595 or complete the contact form below.